Marketing a small business is super hard. There's no doubt about it (especially in today's world).
With more competition than ever, you need to find a way to set yourself apart and connect with your customers, all while staying within your budget.
But there's good news.
An often overlooked, secret weapon, that will act as an extra employee:
Chalkboard signs.
They might sound old-fashioned, but the reality is, your indoor chalkboards and outdoor sidewalk signs attract half of your new business and will be the key to your survival.
So if you're a beginner and ready to:
Discover simple chalkboard techniques.
Learn the basics of lettering and chalk art.
Craft marketing messages that sell.
Design your digital message online for free.
Transfer your digital design to your chalkboard.
Then you're in the right place.
This is the most extensive guide about business chalkboards — so let's get right to it.
disclaimer.
Since we share a lot of how-to ideas with creative people like you, our content naturally may contain affiliate links with resources we love — this means if you click on a link and buy, we will earn a tiny bit of chalk money which we promise to use to create even more free content for you. 😁
In this chapter, we're going to cover the basics of business chalkboards:
What they are.
The benefits of them.
What businesses should use them.
The Top-5 most popular business signs.
Let's dive right in.
what are business chalkboards?
Business Chalkboards are outdoor or indoor signs that promote your products or inform, lead or entertain your customers.
They are not your primary signage — signs with your business name and logo — but rather secondary signs used to communicate a strategic message.
For example, you may want to get more followers on social media, promote a seasonal sale, offer a special restaurant dish or announce a new product release.
The bottom line:
Your options are endless and you should leverage the flexibility of chalkboards to attract new customers and profit.
the advantages of using chalkboards.
Why should your business use chalkboards? That's a good question.
Here are the 10 most common benefits:
Affordable — Chalkboards are easy on the budget since you don't have to replace them after each use. You can buy quality boards, like

 

A-Frames, for around $100 from places like Amazon or Hobby Lobby.
Customizable — You can easily erase your chalk marker designs (usually with just a damp cloth) whenever you need to update your messaging or product offerings. You can even make your own DIY boards, magnetize them, paste on posters, add art, and much more.
Authentic — Chalkboards invoke a strong feeling of nostalgia and help people relate to your products or menu items. It's the ultimate personal touch and a perfect icebreaker for new clients.
Convenient — Making your own DIY chalkboards is easier than you think since all the materials are easy to find, use, and clean up. You can even create your own digital design from the comfort of your computer and effortlessly transfer it to your board.
Promotional — Have a special event coming up or launching a new product? Since you can customize chalkboards on the fly, they act as an extra salesman (with no training required) to advance your marketing efforts.
Relevant — Use your board to stay updated and communicate your company's mask policies, health updates, and any other social or economic guidelines.
Portable — Most chalkboards are super lightweight (some even come with wheels) so you can place them anywhere you want, especially outside on the sidewalk to attract foot traffic and curious buyers.
Durable — Many chalkboards, especially A-Frames, are naturally weather-resistant, have sturdy frames, can withstand the wind, and won't wash off in the rain — making them ideal for outdoor use.
Enticing — Showcase vibrant colors, logos, and images that match your brand and attract new customers. You can even add

 

interactive elements

 

— like spinners, comment boxes or maps — to engage your audience.
Versatile — You can hang them on doors, mount them on walls, stand them on tables, or make an entire room a chalkboard surface. There are too many possibilities to list, but you get the idea. 😉
So you see, chalkboards can basically do it all.
But what types of businesses benefit most? We're about to find out.
what types of businesses use chalkboards?
Almost any business can benefit from their own chalkboard — it doesn't matter if you have a small boutique, a restaurant or even a large retail chain.
But are they right for your business?
Here are just a few industries that have mastered the practice and thrived:
| Business | Specific Industries | How They Use Chalkboards | How They Benefit (PILE) | Unique Uses |
| --- | --- | --- | --- | --- |
| Restaurant & Bars | Restaurants, diners, pubs, fast-food | Menus, specials, welcome signs, open & closed signs, happy hour signs, social media | Promote products, inform customers, attract foot traffic, entertain | Inform customers about wait times |
| Fashion Boutiques & Clothing Stores | Retail stores, toy stores | Sales signs, welcome signs, open & closed signs, social media | Promote products, inform customers, attract foot traffic, entertain | New sales, limited-time offers |
| Cafes & Bakeries | Cafes, coffee shops, bakeries | Menus, specials, welcome signs, open & closed signs, happy hour signs, social media | Promote products, ask for customer reviews & social media likes | Special menu item, 'What's Fresh' board |
| Local Entertainment | Golf courses, movie theaters, variety shows, ziplines, mini-golf, escape rooms, axe throwing | Welcome signs, open & closed signs, social media | Promote products, inform customers, attract foot traffic | Customer scoreboard, 'Winners of the Week' board |
| Amusement Parks | Amusement parks, water parks, ski resorts | Welcome signs, open & closed signs, social media | Inform customers, interact with customers | Line wait times, the status of rides (or ski slopes) |
| Salons & Spas | Hair salons, nail salons, massage parlors | Quote signs, welcome signs, open & closed signs, social media | Promote products, inform customers, attract foot traffic | Limited-time offers |
| Gyms | Gyms, yoga studios, fitness centers | Quote signs, welcome signs, open & closed signs, social media | Interact with customers, attract foot traffic, ask for customer reviews & social media likes | Goal board, limited-time offers |
| Pet Shops & Services | Veterinarians, pet grooming, pet sitting, retail pet supplies | Welcome signs, sales signs, open & closed signs, social media | Promote products, inform customers, attract foot traffic | Drink or treat station |
| Day Cares, Schools & Universities | Schools, universities, school events | Quote signs, welcome signs, open & closed signs, social media | Inform customers, interact with customers | Special events, parking, game days |
| Markets & Grocery Stores | Grocery stores, farmer's markets | Specials, sales signs, welcome signs, open & closed signs, happy hour signs, social media | Promote products, inform customers, attract foot traffic, ask for customer reviews & social media likes | 'What's in Season' board |
| Medical Services | Doctor's offices, pharmacies, dental practices, urgent care clinics | Quote signs, welcome signs, open & closed signs, social media | Inform customers | COVID updates, seasonal shot reminders |
| Real Estate | Real estate agents, rental offices, leasing offices | Welcome signs, open & closed signs | Inform customers, interact with customers | Open-house buffet and bar signs, home perks boards |
| Family / Special | Garage sales, lemonade stands | Quote signs, sales signs, welcome signs | Promote products, inform customers, interact with customers | Special sales, navigational |
| Tourism & Business Chambers | Marinas, boat/dolphin tours, city tours, welcome centers | Welcome signs, open & closed signs | Promote products, ask for customer reviews & social media likes | Promote brochures, top-rated local attractions list |
| Car Wash & Automotive | Car washes, repair shops | Welcome signs, sales signs, open & closed signs | Promote products, ask for customer reviews & social media likes | Wait times, upgrade packages |
Does your business qualify?
Now let's discover how your business can specifically use chalkboards.
Releasing your chalkboard to the world is the fun part.
But first, you need to have a strategy and define the roles of each of your chalkboards.
In this chapter, we're going to use the PILE System to categorize your signs and come up with a marketing plan of attack.
chalkboard roles: The PILE system.
Before you design your signs, it's important to know how each chalkboard will fit into your overall marketing strategy.
That's where the PILE system comes into play — a simple way to organize your chalkboards into one of four categories based on their role.
An easy way to remember these categories is using the acronym PILE: Promote, Inform, Lead, Entertain:
Promotional signs help your business send a message to your customers to BUY.
Use these to promote new items, highlight limited time offers, hard to find items, free gifts, and repeat customer discounts.
Informational signs educate your customers with a message that tells the customer something they didn't know before.
Open & Closed Signs, signs labeling items, warning signs, exit signs, and Menu Signs are just some examples.
Lead signs tell your customer to go somewhere, whether physically or online.
Examples include: Welcome signs, 'Leave a Review 'signs, 'We are Moving' signs, social media signs, 'Check-In Here' signs, or 'You Are Here' map signs.
Entertaining signs are signs that beg to be photographed — think about funny signs
you see online.
These signs include thought-provoking quote signs, interactive signs, selfie-worthy signs (e.g. angel-wing signs), and many more.
Once you start thinking about chalkboards, you'll start to see them everywhere.
So next time you see one, try to assign it a role from above, and see if it would fit into your business's strategy.
Ok. So you've learned the first step is to decide on a role for your new chalkboard.
Now let's dive deeper and discover how your business can specifically use chalkboards in each of these role categories.
pro tip.
When deciding on a role for a chalkboard, it's helpful to think of it as an extra employee — since each employee has a specific job (or role) within your company.
9 ways to use your chalkboard.
Here are 9 ways you can use your chalkboard to help your business:
Common Use
PILE Category
Showcase new products, new promotions, and specials.
Promote
Inform foot traffic you're open and ready for business. Invite customers into your shop even if they never knew you were there before.
Inform
Create interactive signs, whether a 'spin-to-win' type sign or a sign begging to be 'selfied' (i.e. photographed) with.
Entertain
Boost your online ratings by asking for or posting customer reviews.
Lead
Tailor chalkboard signs to local events and take them with you.
Promote
Inform customers of upcoming events.
Inform
Ask for social media Likes & Follows.
Lead
Announce new or hard-to-find items.
Promote, Inform
Add a human touch and share your brand image with those who are
unfamiliar.
Inform, Entertain
Make your customer laugh or smile. Funny signs are often shared on social media without even asking! Add a funny quote or picture that will draw your customers' attention.
Entertain
Now you know what the roles of your chalkboards are and the most common ways to use them.
Let's wrap this chapter up with a quick list of the most popular signs out there.
the top 5 business signs.
Here are the most popular business signs that you'll see out and about:
A-Frame Signs

 

— these can be any type of signs — like Sales or Quote Signs — that are outdoors and designed to entice people to enter your doors.
Welcome Signs

 

— to greet your guests when they arrive.
Quote Signs

 

— fun signs that motivate your customers and communicate your company values.
Open & Closed Signs

 

— fancy business hour signs you can hang in your doorways or windows.
'We are Moving' Signs

 

— these signs tell your customers you've moved to a new address or plan to in the future. They usually include your new address as well.
Now that you're a business sign expert, it's time to get creative…
3. crafting your message.
So you know what type of chalkboard you're ready to make. Fantastic.
But now you're probably wondering:
What should my board look like? What should I include in my sign message?
Let's answer that together.
Messaging is the MOST important part of your chalkboard.
Your message is more than just words — it includes symbols, art, and a concise design that sends a clear message to your customers.
(Don't forget that, if you want to be a successful signmaker.)
Here are the cardinal rules when it comes to messaging:
Concise Wording — Stick to only the most important words.
Readable Fonts — Use only easy-to-read fonts.
Personality — Choose one font to represent the sign's personality.
Image — Use a simple image to draw the viewer's attention. Color helps!
Arrows — Use them to help navigate the customer somewhere.
Quotes — Write a funny or thoughtful quote to enlighten the viewer.
Deals or Prices — Include prices if they're a good deal or necessary.
Unnecessary Details — Keep your message concise.
Hard-to-Read Fonts — Avoid so-called 'pretty' fonts that are actually ugly.
Negativity — Always keep your message positive.
Remember those rules and you'll avoid 90% of the mistakes most business owners make.
content creation questions.
It's time to play Shakespeare and craft our message masterpiece.
Below is a list of questions to help you discover the perfect foundation for any message.
And as we go through these questions, let's answer these like a real-life company — a brick-and-mortar loaded tea company, that sells nutritional beverages:
What is your business known for? — Ask a friend how they would describe your business or think of terms customers might search for you in Google. Real-life Answer: 'Delicious Nutritional Drinks'
What products or services differentiate you from your competitors? — Look up the websites of 2 to 3 of your competitors. What services do they promote and focus on? Make a shortlist of what you do differently or better. Answer: 'We are the only place in the city serving loaded teas; We are the 'fast food for healthy people'
Do you have special products or services that are in demand right now, unique or hard to find? — What do you offer that customers are looking for right now. Answer: 'Loaded teas with over 50+ flavors'
Who is your ideal customer? — Think busy working moms, health-conscious millennials, adventurous tourists, animal lovers, etc.

Answer: '25-year-old healthy or health-conscious people with some disposable income'

Do you have an online presence? — What social media profiles (or groups do you currently utilize? For example, Facebook, Instagram, Tik Tok, Reddit, etc.

Answer: 'Facebook, Instagram, and Google'

Do you run any specials or promotions? — What unique offerings should your customers know about? And how often do they change?

Answer: 'We run the same specials daily: $1 OFF social media check-in'

BONUS Question: What 'Boosters' do you offer? — 'Boosters' are special perks your customers get to enjoy, simply by working with you. For example, free shipping, money-back guarantees, no-hassle returns, etc. Answer: 'Get a free loyalty punch card and redeem it for a free drink after 10 purchases'
All you need to do is keep these questions close when it comes time to write your message.
Based on how you decide to use your sign — promote an event, showcase a product, etc. — plug in a relevant answer and you'll have plenty of ideas.
Now let's get even more precise.
And talk syntax.
Your message's syntax — the way your words are arranged — is critical to its success.
These are the most important elements of your message that you should prioritize (in order):
| | | |
| --- | --- | --- |
| WHO | Should only be most prominent if a well-known name. | The Beach Boys |
| (OR) WHAT | Should be most important if WHO is not a well-known name. | A wine tasting |
| WHERE | Can be played down, but still more important than date and time. | In the lounge |
| WHEN | If they're just added as a courtesy, they should not interfere with the main message. | At 8:00 PM Tue, 9/2 |
| WHY | Should be an itemized list of items, features orb benefits. | Taste the most unique white wines from New Zealand. |
| HOW MUCH | The only time a price should be the largest is when the subject is already known. | $10 per person |
Here's the thing to remember:
Only include the elements above — starting from top to bottom — only if they're completely necessary. Or else leave them off.
Keep your message concise, with a goal in mind, and you'll knock it out of the park.
There's another way to make your message even better.
The design.
This chapter is all about choosing the right font, formatting, and extra elements that will make your chalkboard unforgettable.
Guess how many seconds it takes to capture a customer's attention?
Five. Cinco.
That's pretty quick.
So not only does your chalkboard's message need to be distinct and clear, but you also need to choose free fonts that are super easy to read.
Follow these 3 font rules when coming up with your message:
Never use messy fonts — Try to avoid many script style fonts that are hard to read. You want lettering that conveys your message quickly.
Use a maximum of 3 font families — A font family is a specific style of typeface that includes all its variations (bold, regular, italic, light, etc.). Each of these variations is a font. Stick with 3 max per chalkboard.
Use at least one heading font and one secondary font — Use larger fonts that match your brand and a different, smaller font for the majority of your body text. You want both fonts to pair well.
We're almost ready to choose the perfect font.
But first, let's get a quick recap on heading and secondary fonts.
note.
Remember, the fewer words you use the better. But don't use too few or else you'll confuse your audience.
Heading Fonts (also known as 'Personality' or 'Brand' fonts) are the larger text words or phrases often used for the most important words on your chalkboard.
Since they make a big impression, you'll usually find them before larger bodies of text, similar to a title, with emphasized formatting.
Use them for section headings or to communicate the primary message or main goal of your message.
But here's what really matters:
Make sure you choose a heading font that matches your brand's personality.
For example, if you're a Mexican restaurant choose a fun font that matches.
Many businesses ignore their heading font, but if you stay consistent, you'll immediately gain trust among your customers (and have an immediate advantage over your competitors).
For example, all the 'Margaritas' in the image below are heading fonts: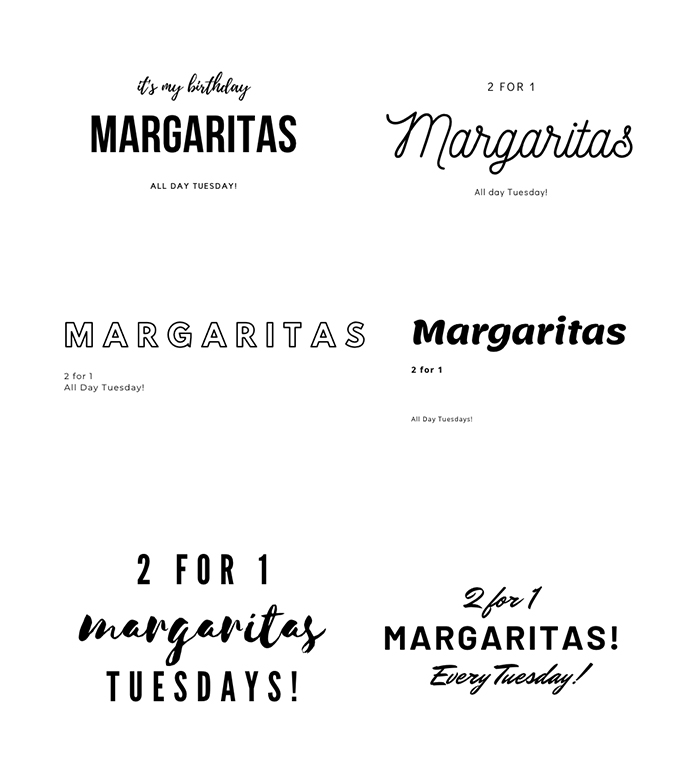 pro tip.
You can find font combinations (like the one in the picture) from Canva. Click Text in the left toolbar, scroll down below the effects bit, and you'll see all the different combos.
Secondary Fonts
make up the body of your message and occupy a majority of your chalkboard surface.
So if you have a board with a longer message, like a restaurant menu sign, you'll get to know your secondary font real quick. 😊
Bottom line:
You want to use Sans Serif fonts, and make sure they're easily readable, well-spaced, and not too bold.
what are the best fonts to use?
I have tried every FREE font you can imagine.
Check out the master list of 139 free chalkboard fonts with all my heading and secondary font favorites.
(You can get a free printographic there. 📄)
Here's another sweet idea:
Create a free Canva account.
Click Text in the left toolbar.
Look for the Font Combinations section.
Scroll down past the effects bit, and you'll see all the different font combos (larger headings with smaller secondary fonts).
Click on the ones you like and try replacing their text with your own.
Adjust spacing and move text boxes around to see which ones you like best.
See it in action: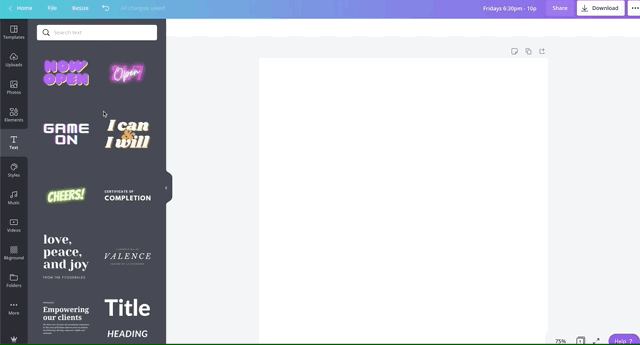 note.
You don't have to use Canva. Many other reputable graphics software come with built-in font combos as well.
Now you know how important fonts are in your message design.
Let's take it a step further and quickly touch on how to digitize your design and get it onto your chalkboard.
We've been waiting for this chapter.
Here's what we're going to learn:
An overview of how to make a chalkboard design on your computer.
Options for transferring your digital work to a chalkboard.
What supplies you need to need to master the process.
Might seem like a lot, but we've made it this far. 😊
Trust me on this one — your sign is about to come to life.
Once you find fonts you like in Canva (or any program), you can make a digital design mockup that you can transfer to your chalkboard.
For example, I make most of my designs in Canva or InDesign — then depending on the size of the sign — I print it out and trace it onto the board.
Or, if it's a very large project…
I use a projector (the device) to project my design onto the chalkboard, then I trace directly on the board's surface.
Here's a quick summary of the process:
You choose your perfect heading and secondary font combo.
Make your digital printable.
Add any images or object art.
Print your design.
Follow the steps above to create your template design.
But how do you move your design to your actual chalkboard?
It's called 'transferring', and that's next.
Transferring is the process of copying a design from a printed piece of paper or digital image onto your chalkboard.
(You can learn more about all of these transfer methods in the Beginner's Guide to Transferring Your Chalkboard.)
There are 3 awesome methods you can use to transfer your design:
Use the Chalk Way, if you're on a budget and your printed design is not too complex.
Use the Transfer Paper Way, if you want cleaner markings to help you draw your final design.
And finally, use the Projector Way, if you want to go digital and have a large project.
Now, depending on the transfer method you choose, you'll need to gather the right materials.
Supplies recommendations are coming up next.
You have a TON of options when it comes to chalkboard supplies (and it can be overwhelming).
And choosing the right supplies really is vital to your project's success, so let's make this easy.
Here is a chart of all the supplies you'll need for each of the three transfer methods:
| Supply | Chalk Way | Transfer Paper Way | Projector Way |
| --- | --- | --- | --- |
| Your Printed Design Template | ✓ | ✓ | - |
| Chalk | ✓ | - | - |
| Chalk Markers | ✓ | ✓ | ✓ |
| Chalk Pencil | - | - | ✓ |
| Pen | ✓ | ✓ | - |
| Scissors and Tape | ✓ | ✓ | - |
| Ruler* | ✓ | ✓ | ✓ |
| Washi / Painter's / Ruled Tape* | ✓ | ✓ | ✓ |
| White Transfer Paper | - | ✓ | - |
| Eraser* | ✓ | ✓ | ✓ |
| Damp Microfiber Cloth* | ✓ | ✓ | ✓ |
| Magic Eraser* | ✓ | ✓ | ✓ |
| Portable Projector | - | - | ✓ |
| Chair / Ladder* | - | - | ✓ |
| Leveling Tool* | - | - | ✓ |
*These supplies are optional
** Your printed design template assumes you have a computer with a connected printer.
If you're looking for the easiest, DIY approach, go with the Chalk Way.
If you want a slightly more precise design, grab some transfer paper.
And when it comes time for that large chalkboard job, definitely consider the Projector Way.
Now you're prepped and ready to tackle your business chalkboard.
But before we go — let's recap what we've learned.
Business chalkboard signs will elevate your small business above the competition.
There are a lot of benefits to having a business chalkboard, most noticeably being affordable and customizable.
The PILE System — Promote, Inform, Lead, Entertain — is a simple way to categorize your chalkboards based on their role.
There are 9 common ways to use your business chalkboard and here are the Top 5 sign types.
When it comes to your sign's message, there are some cardinal rules, but it's most important to use concise wording and readable fonts.
Be aware of your message's syntax and how you prioritize the who, what, where, and when of your message.
Use a maximum of 3 font families and never use messy fonts.
Use at least one heading font and one secondary font (here's the master font list).
Create a digital design template on your computer that you'll use to transfer to your board.
You have 3 methods at your disposal to transfer your digital designs: Chalk, Transfer Paper or Projector.
Be proud of yoursself.
You now know the basics and are WAY above the competition.
Do you have any questions or success stories?
Leave a comment:
Comments help all of us become better sign makers. 😁
supplies faqs.
Want some extra guidance? Check out these answers.
leave a comment.
Share your thoughts below — you opinion matters.